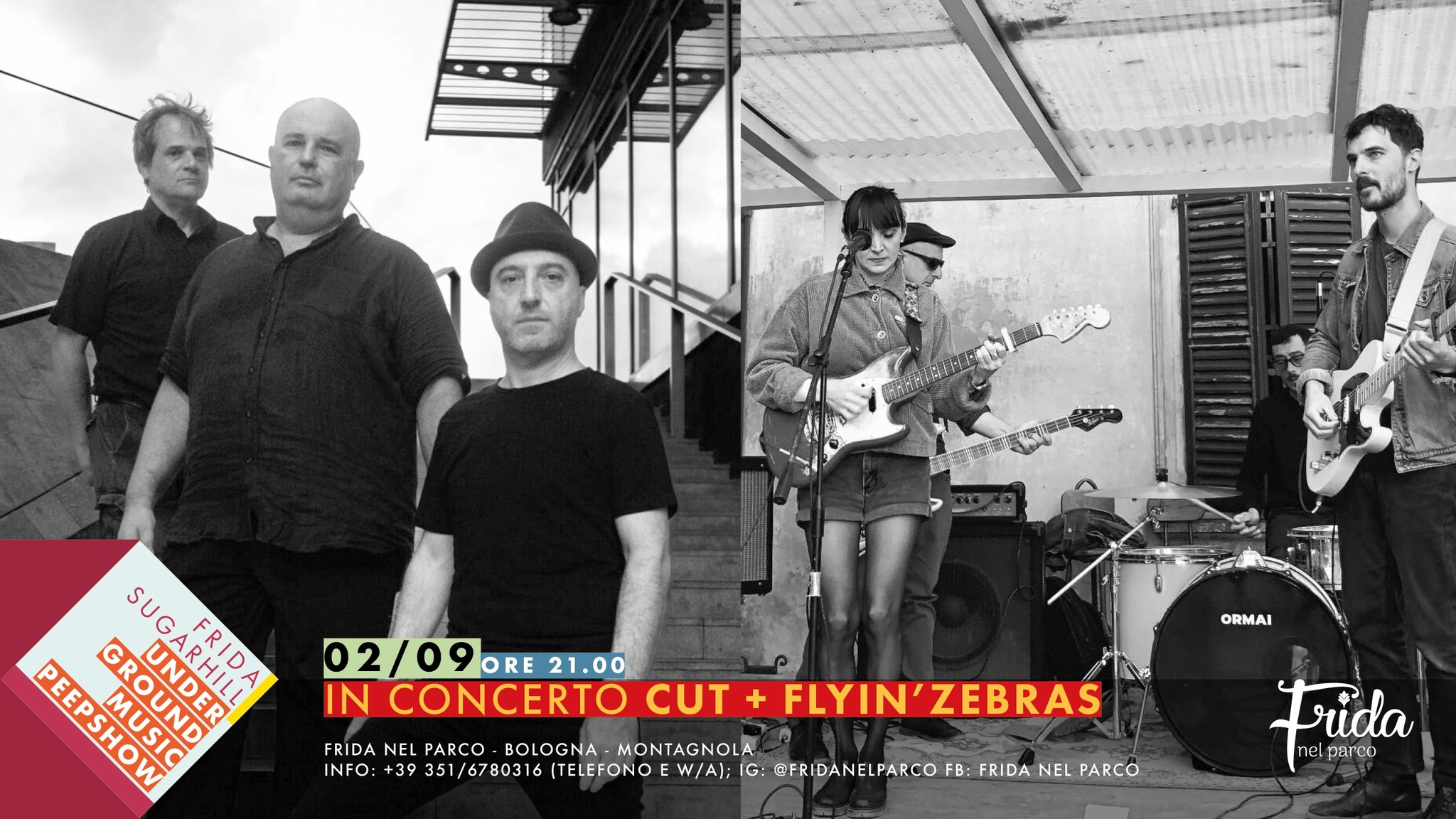 CUT + Flyin'zebras in concerto
15
15 people viewed this event.
Frida Sugarhill | Underground music peepshow
CUT
I CUT sono una rock band di stanza a Bologna, nata nel 1996. La loro attività è stata la scintilla che ha contribuito alla nascita e allo sviluppo di una delle piú importanti etichette indipendenti italiane, Gamma Pop.
Il suono dei CUT è stato descritto in vari modi ma forse il più azzeccato è stato coniato dalla webzine UK Pennyblack Music: "John Lee Hooker stuck in a postpunk straitjacket" ovvero "John Lee Hooker stretto nella camicia di forza del postpunk" (http://www.pennyblackmusic.co.uk)
La loro discografia conta sette album in studio, un live in UK e un E.P. per la stessa Gamma Pop e per altre istituzioni della scena come Homesleep Music, Riff Records e Go Down! Records.
Per le session dell'album in studio "ANNIHILATION ROAD" la band si è trasferita temporaneamente a New York presso lo studio di MATT VERTA-RAY, chitarrista e socio di Jon Spencer negli Heavy Trash. L'idea di una collaborazione tra i CUT e MV-R è nata dopo aver condiviso il palco in occasione di un tour italiano degli Heavy Trash nel 2006. Nel suo studio del Lower East Side Matt ha registrato artisti del calibro di Jon Spencer Blues Explosion, 20 Miles, Kid Congo Powers, Ronnie Spector, Andre Williams, Mick Collins, Mooney Suzuky, Robert Quine. Il disco è stato masterizzato da Ivan Julian (Richard Hell and The Voidoids) ed è uscito nell'ottobre 2010 per Go Down! Records.
L'attività live del gruppo ha toccato ripetutamente ogni angolo della penisola e non solo: i CUT contano infatti numerosi  tour europei e date negli Stati Uniti. In particolare la band ha messo radici in terra d'Albione grazie a ripetuti tour e uscite discografiche marcate U.K. Nel 2011 la band ha l'uscita del primo live album del gruppo. "THE BATTLE OF BRITAIN – Live in the U.K." è una fedele testimonianza sonora del terzo tour inglese dei CUT – febbraio 2011. L'album, disponibile solo in vinile attraverso Gamma Pop, è stato registrato e mixato da Andrea Rovacchi (Slugs, Julie's Haircut), per gran parte durante la data di Liverpool (19 febbraio 2011 –Pilgrim Bar).
In questi anni la band ha suonato con: The Make Up, Unwound, Ulan Bator, Uzeda, Royal Trux, International Noise Conspiracy, Eels, Delta '72, Man Or Astroman, Old Time Relijun, The Hives, Heavy Trash, Violent Femmes e molti altri artisti italiani e internazionali.
Il 27 luglio 2012 hanno aperto il concerto di IGGY & THE STOOGES al castello Scaligero di Villafranca di Verona.
L'8 agosto 2016 invece aprono per i MUDHONEY allo Spazio Boss di La Spezia.
L'8 marzo 2013 vede la luce, sempre per Gamma Pop, "Downtown Love Tragedies (Pts. 1&2)" un 7" split con i "gemelli" Julie's Haircut, in cui i due gruppi si confrontano con due classici della black music reinterpretati per l'occasione e "miscelati" ad altrettanti classici della new wave americana: Who is He and What Is He To You di Bill Whiters con incastonato il riff di Little Johnny Jewels dei Television per i Julie's Haircut e Emma degli Hot Chocolate con una corposa citazione di Dream Baby, Dream dei Suicide per i CUT.
Nel marzo 2014, in occasione del decimo tour in UK, la band produce una release online del brano "In Toxteth" con alla voce Pete Bentham di Peter Bentham & The Dinner Ladies. Pete è un leggendario musicista e promoter di Liverpool, la città che è diventata quasi una seconda casa per i CUT, al punto che l'etichetta inglese ANTIPOP RECORDS ha deciso di prendere in distribuzione e di curare la pubblicazione degli album dei CUT per il territorio UK. Il brano è disponibile sul profilo bandcamp della Antipop Records.
Questa uscita è parte di un progetto più ampio, denominato "CUT Must Die!", ovvero una serie di collaborazioni tra i CUT e i loro amici e collaboratori storici. Alcune di queste collaborazioni (come quella con Andrea Rovacchi per il brano Take It Back To the Start, già pubblicato online) sono confluite nell'ultima uscita discografica ufficiale dei CUT.
Il 20 febbraio 2017, infatti, esce Second Skin, il sesto album in studio per i CUT.
L'album, registrato e prodotto da Bruno Germano (Settlefish, Arto) presso il Vacuum Studio di Bologna, include contributi da parte di Mike Watt (Minutemen, fIREHOSE, Iggy & The Stooges), Stefano Pilia (Rokia Traoré, In Zaire, Massimo Volume, Il Sogno Del Marinaio e molti altri), Sergio Carlini (Three Second Kiss), Andrea Rovacchi (Julie's Haircut), Francesco Salomone (Forty Winks, Qlowski), Francesco Bucci, Paolo Raineri (Ottone Pesante, Junkfood) e molti altri. Second Skin è frutto di una co-produzione tra Area Pirata, Dischi Bervisti, Bare Bones Productions e l'etichetta inglese Antipop. Per l'artwork è stato scelto "Nel Buio", un quadro dell'artista modenese Simone Fazio.
Tra la release di Annihilation Road e quella di Second Skin il gruppo ha dato vita a un progetto 'in progress' denominato CUT Must Die: si tratta di una serie di collaborazioni tra i CUT e alcune delle persone più vicine alla band per amicizia, stima e affinità attitudinali oltre che musicali. Pubblicati sul Bandcamp del gruppo, ad oggi i brani di CUT Must Die hanno visto la collaborazione di Peter Bentham (Pete Bentham & The Dinner Ladies, Liverpool), Matt Verta-Ray, Mike Watt, Andrea Rovacchi (Julie's Haircut) e Lilith-Rita Oberti, front woman dei Not Moving.
A febbraio 2023 è uscito DEAD CITY NIGHTS settimo album dei CUT. Raccolto attorno al nucleo storico formato da Ferruccio Quercetti, Carlo Masu e al batterista Antonio 'Tony Booza' Ritucci (entrato in pianta stabile nella band alla fine del 2017), il disco segna un ritorno alla natura più scarna ed essenziale della band dopo la dimensione 'cooperativa' che aveva caratterizzato il suo predecessore. L'album è stato accolto molto positivamente dalla stampa italiana e internazionale. Da segnalare lo speciale che Louder Than War radio (webzine, radio e casa editrice UK dedicata al punk in tutte le sue sfaccettature ed espressioni diretta da John Robb) ha voluto dedicare a Dead City Nights, in seguito all'ottima recensione del disco da parte del giornalista e DJ Neil Crud.
La band è tuttora impegnata a presentare dal vivo i nuovi brani, nati per la maggior parte durante gli anni della pandemia, durante il lungo tour in Italia UK e in Europa continentale che ha seguito l'uscita del disco, curata dall'etichetta bolognese Improved Sequence.
CUT:
Ferruccio Quercetti – vocals, guitar
Carlo Masu – vocals. guitar
Tony Booza – drums, percussion
CUT are rock and roll/blues punk/noise trio from Italy.
Their sound has been described in many ways but the band's favourite is still John Lee Hooker stuck in a post-punk straitjacket (http://www.pennyblackmusic.co.uk).
Formed in 1996, CUT have released seven studio albums and have been constantly touring all over Italy and Europe, thus earning a solid reputation as one of the wildest and most intense live bands on the scene.
CUT have been sharing the stage with the likes of: Iggy & The Stooges, Violent Femmes, Heavy Trash, The Jim Jones Revue, The Make Up, Unwound, Royal Trux, International Noise Conspiracy, Eels, Delta '72, Man Or Astroman, The Hives, Guitar Wolf, Mudhoney and many other Italian and international acts.
Their first album Operation Manitoba (released in 1998) has been described as "best Italian rock debut of the year" by Rumore, Italy's main rock monthly.
The band have 16 UK tours under their belt. Other international experiences include repeated tours of Germany, France, Belgium, Luxembourg, Denmark, Poland, Czech Republic, Lithuania, Latvia, Slovenia, Croatia, Switzerland, Austria and shows in the New York (USA) area.
Their 2010 Annihilation Road album has been recorded and mixed by Matt Verta-Ray of Speedball Baby / Heavy Trash fame in his New York studio, NY HED. ThE album has been mastered by Ivan Julian, from legendary punk/new wave outfit Richard Hell and The Voidoids
In October 2011, the band released a live album, recorded during CUT's UK tour of the same year. The record – The Battle of Britain – portraits the band in their favourite milieu: a fiery, intense and wild live show.
CUT have also released a 7" split with Rocket Recording artists Julie's Haircut, featuring a mash-up of Hot Chocolate's "Emma" and Suicide's "Dream Baby Dream": weird but true.
In February 2017, CUT have released 'Second Skin' which is their sixth studio album. The record featured many guests among the band's friends and cooperators, like Mike Watt (Minutemen, fIREHOSE, Iggy & The Stooges) and Stefano Pilia (guitar player in Rokia Traoré's band and Mike Watt's Il Sogno Del Marinaio). Since the album's release the band has been touring non-stop all over Italy, Europe and the UK.
Mike Watt also appears on Bad Chromosome, CUT's contribution to a 7" split between the Bolognese trio and Turin's punk blues outfit Movie Star Junkies which came out in 2019 for Italian label Bloody Sound Fucktory.
Since 2014, CUT have also embarked in 'CUT Must Die', an ongoing cooperative venture in which the band is working on individual tracks in the company of some of their favourite humans. So far the band has released songs performed with the likes of Peter Bentham (from Liverpool's Pete Bentham & The Dinner Ladies), Matt Verta-Ray, Mike Watt, Andrea Rovacchi (Julie's Haircut) and Lilith-Rita Oberti, front woman of pioneering Italian voodoo punk rockers Not Moving.
In February 2024 the band has unleashed 'Dead City Nights', their seventh studio album. The record has been released by the Improved Sequence label and it is distributed internationally by Cargo. Critical reception for 'Dead City Nights' has been very positive: leading punk fanzine 'Louder than War' (UK) described the album as full of 'subtlety, space and dynamism amid brazen guitar and drums'. For Belgian webzine 'Peek-a-boo' the album is 'Clearly recorded. Perfectly played. And quite often, perfectly representing all the best qualities of a band. 'Dead City Nights' is the case when a punk band gets ambitious to get outside of the ageless box of one genre'[…]'the trio managed to reach out a strong and uncompromising result'. According to RPM Online 'Dead City Nights is 'Great stuff. An impressive album that works really well as a whole or diving in now and then.' Eager to introduce their new material to audiences all over Europe the band has been on tour constantly since the album's release. Catch them on tour!
CUT are:
Ferruccio Quercetti – vocals, guitar
Carlo Masu – vocals. guitar
Tony Booza – drums, percussion
Flyin' zebras
Formazione garage psichedelica con venature kiwi rock di casa a Bologna. Atmosfere che richiamano la west-coast degli anni '60-'70, strizzando l'occhio a mood più Paisley Underground (https://it.wikipedia.org/wiki/Paisley_Underground) e di un certo spirito tipico degli anni '90.
Ne fanno parte ex-componenti dei Tunas (basso e batteria), Joyce in Pola  e X Ray pic-nic.
All'attivo hanno un demo (2016) e un EP ("Death from shaokao") uscito per l'etichetta francese Helzapoppin records nel  2018.
Data e ora
Categoria dell'evento
Share With Friends