Rassegna "Soul retrospettiva. Da Detroit ai giorni nostri in 4/4"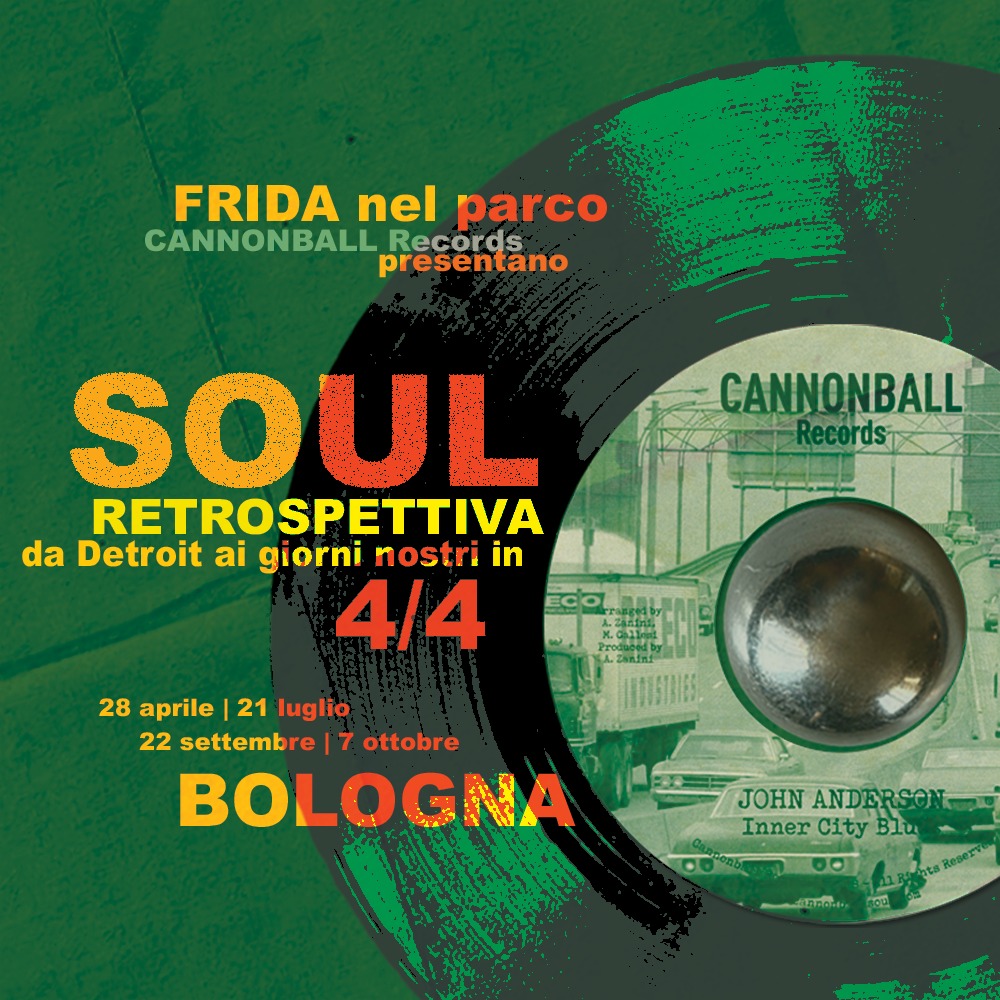 Rassegna "Soul retrospettiva. Da Detroit ai giorni nostri in 4/4"
22
22 people viewed this event.
In programma il primo degli appuntamenti Soul retrospettiva. Da Detroit ai giorni nostri in 4/4 con Cannonball Records e alcuni ospiti di spessore, tra presentazioni di libri e raffinati dj set, attraverso i quali ci si occuperà di tracciare il percorso in 4/4 attraverso cui il soul, partendo dai tardi sixties, è arrivato a definire la musica da ballo sul confine tra i due millenni.
Si ascolterà sweet soul, group harmonies, funk, modern soul, boogie, fino ad arrivare alla soulful house. Il tutto nella rinfrescante cornice di Frida nel Parco, in Montagnola. Si comincia con Alberto Zanini & Nicole Barbieri at the controls; in programma anche la presentazione del libro Storia di una Pantera e la presenza moderatrice di Riccardo Pedrini in conversazione con l'autore.
EPK – Alberto Zanini Alberto Zanini hails from Carpi, northern Italy. He started his soulful journey as a young Mod sometime around the early eighties. He soon began collecting rare Black American music on original 45's and his passion eventually lead him to build quite an eclectic collection which he loves to spin at weekenders and parties all over Europe and abroad. Label owner, renown collector, International DJ and producer, he has been spinning tunes to dancefloors from Rome to Amsterdam, from Chicago in the States to as far as Saint Petersburg in Russia and many places in between. Since quite a few years now he's been running a leading group of record labels, putting out tons of previously unissued recordings from unknown artists, and contributing to feed the scene with essential new sounds. He's also an author with a couple of great books out, Funk Investigators, that recounts about the foundation of the labelst, traveling unknown places around the world on a quest to find the ultimate unissued gems, and the recently released A Panther's Story. https://linktr.ee/Tesla_Groove www.teslagroove.com www.cannonballsoul.com https://cannonballsoul.com/books/ https://www.instagram.com/funk_investigators/ https://www.mixcloud.com/albertofolpower/
Sul palco Alberto Zanini (EPK) & Nicole Barbieri at the controls. Presentazione del libro di Zanini Storia di una pantera con Riccardo Pedrini.
Data e ora
Categoria dell'evento
Share With Friends