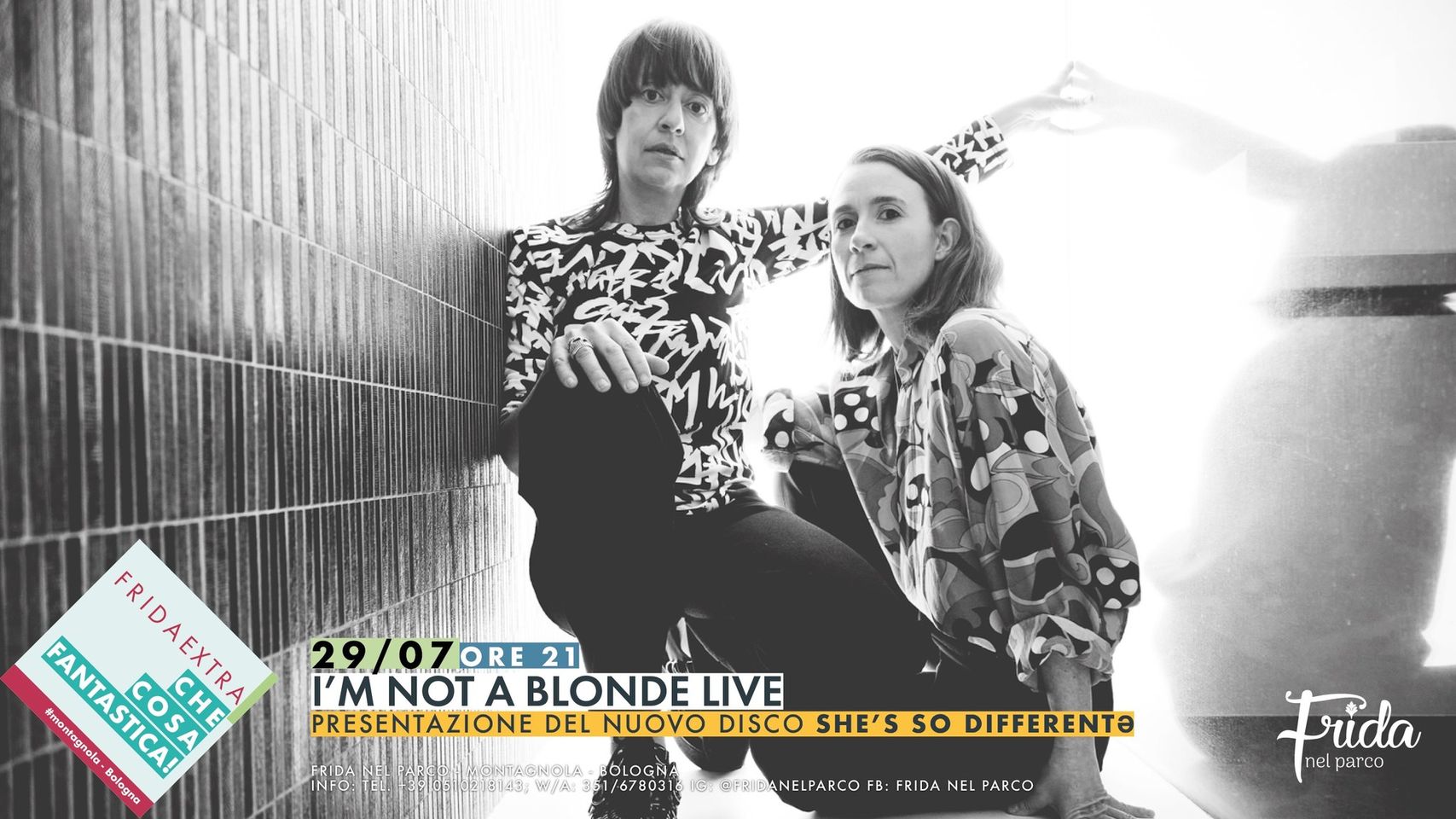 𝐈'𝐦 𝐧𝐨𝐭 𝐚 𝐛𝐥𝐨𝐧𝐝𝐞 in concerto con 𝐒𝐡𝐞'𝐬 𝐬𝐨 𝐝𝐢𝐟𝐟𝐞𝐫𝐞𝐧𝐭ə
28
28 people viewed this event.
Presentazione del nuovo disco She's so differentə.
A un anno di distanza dall'ultimo album Welcome Shadows/This is Light, torna l'elegante electro-pop delle I'm Not a Blonde: esce il 17 marzo per INRI/Metatron il nuovo singolo She's so differentə.
She's so differentə è l'esplorazione della propria identità di genere da parte di una donna che riconosce in se anche una parte maschile, un processo che non si risolve nella scelta di una parte ma nella consapevole e gioiosa accettazione della propria complessità, intesa come ricchezza umana.
Prodotto insieme al poliedrico musicista e sperimentatore Mario Conte, il nuovo brano è un ballo liberatorio che rievoca un sound à la Pet Shop Boys, strizzando l'occhio a una certa dance anni '80/'90 ma tenendo ben presenti le chitarre distorte che hanno segnato alcuni brani di Welcome Shadows/This is Light. Su questo orizzonte sonoro, si staglia la parte vocale che è una vera e propria performance, nell'interpretazione delle diverse identità che costituiscono un caleidoscopio di emozioni, sentimenti e riflessioni che esplodono nella liberazione finale.
BIO
I'm Not a Blonde è un duo italo-americano di base a Milano composto da Chiara Castello e Camilla Benedini. Il loro elegante electro-pop – fatto di ritmi e synth anni '80 e chitarre e melodie dal sapore punk/rock anni '90 – si muove in perfetto equilibrio fra gli aspetti delle due personalità: ironia e follia, divertimento e serietà, minimalismo e art-pop, digitale e analogico. Tutto avvolto da un velo di malinconia di derivazione new wave che dona alla loro musica una precisa identità e uno stile inconfondibile.
Esordiscono nel 2016 con l'album Introducing I'm Not a Blonde e dallo stesso anno entrano stabilmente nel roster di INRI. Il 2018 è l'anno del secondo LP dal titolo The Blonde Album, cui segue nel 2019 la pubblicazione del terzo disco Under the Rug, presentato al Reeperbahn Festival in Germania. Particolarmente apprezzate dalla stampa e dal pubblico dell'Europa centro-nord, sul piano internazionale collaborano con la label Backseat e con il booking All Rooms di Berlino.
Prima che la pandemia bloccasse il mondo, sono state protagoniste in diversi festival italiani e internazionali, condividendo il palco con artisti del calibro di Duran Duran, Moderat, Soulwax, Peaches, Ghostpoet, Hurts e molti altri. Dal vivo, le loro architetture sonore fatte di sovrapposizioni di loop di voci, chitarre, synth e beat elettronici riempiono lo spazio del palco con la forza e l'impatto di una full band. Il loro stile ha sedotto artisti di fama mondiale che hanno scelto I'm Not a Blonde per l'apertura dei live in Italia: i Franz Ferdinand nel 2018 all'Unipol Arena di Bologna, The Killers a Rock in Roma (2018), i Wolf Alice per la loro data unica in Italia del 2018 e Miki Shinoda dei Linkin' Park nel 2019 a Milano e Padova.
Orfane della dimensione live a causa del lockdown, pubblicano nel 2020 l'EP Songs from Home.
Nel 2021 vincono la call indetta da Italia Music Export, a supporto della loro attività promozionale all'estero.
Anticipato dai singoli Circles e 1984, il 10 dicembre 2021 è uscito l'EP Welcome Shadows, primo capitolo di un progetto articolato in due tappe. Il secondo capitolo This is Light, è uscito ad aprile 2022 introdotto dai singoli Talk of Love e Speak Loud.
Data e ora
Categoria dell'evento
Share With Friends