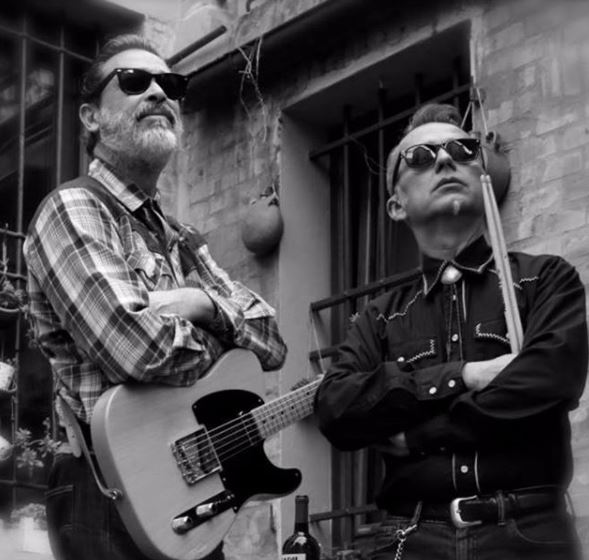 Anteprima del festival "Blues a balus". In concerto General trio e The Dirtyhands.
62
62 people viewed this event.
Frida Black & blue | Musica nera e dintorni.
Generale Trio
Nel 2018 il chitarrista e cantante Matteo "il Generale" Vincitorio ed il batterista Franco Di Gregorio, dopo anni di affiatato studio creativo da cui era scaturito un intero album di inediti, vengono abbandonati dal bassista e paroliere del gruppo, trovandosi così con un repertorio promettente alla ricerca di un supporto ritmico. Entra così nel trio il bassista Guidoriccio Bonvicini che, cercando di non snaturare il lavoro svolto, sviluppa ed arrangia a suo modo il sound della precedente formazione. Nasce così "Generale Trio" che fra locali e rassegne blues si esibirà con una certa costanza fino ad oggi alternando ad una quindicina di brani propri con testi in italiano o strumentali anche altrettanti standard blues rivisitati. Le composizioni originali sono canzoni malinconiche ed ironiche al tempo stesso, semplici ma coinvolgenti come i classici da cui attingono. Si passa dal twist al funky, dallo swing ai lenti per poi sfociare nel rock/blues in cui Matteo Vincitorio sfoggia la sua tecnica "slide guitar". Ne esce così uno spettacolo "vintage" che affonda le sue radici nella American music ma anche moderno e accattivante.
The Dirtyhands
I Dirty Hands, storica rocking blues band italiana, nascono nel 1990 quando Andy "Dirty Hand" Carrieri (chitarra e voce) e Cesare "Big Mojo" Ferioli (batteria), terminata la loro comune collaborazione con i Jack Daniel's Lovers, decidono di intraprendere la più difficile ma appassionante strada del blues. La band, tra le più famose a Bologna, è stata molto attiva fino al 1997 con il bassista Max Pitardi e l'armonicista Egidio "Juke" Ingala, pubblicando tre dischi distribuiti in tutta Europa che hanno ottenuto un ottimo riscontro di pubblico e di critica sia in Italia che all'estero, e suonando in Italia, Europa e U.S.A. Il gruppo ha collaborato con musicisti del calibro di Andy J. Forest, James Monque'D, Lynwood Slim, Lee Allen (sassofonista di Fats Domino e di Little Richard), David Hidalgo (Los Lobos), Dave Alvin (The Blasters) e molti altri artisti. The Dirtyhands si sono riformati nel 2014 e nel 2020 hanno pubblicato il disco "Bull's Eye" con cui hanno festeggiato i 30 anni di carriera, un disco che è un'esplosione di attitudine blues delle origini, lo-fi e dalle venature garage: una sintesi del loro personale stile elaborato in anni di ricerca che dagli esordi nella scena punk rock bolognese degli anni '80 li ha portati ai tour e agli innumerevoli festival negli Stati Uniti ed Europa durante gli anni '90.
Data e ora
Categoria dell'evento
Share With Friends